Review: Jumbo Prawn Linguine, Sundance Mine Company, Palo Alto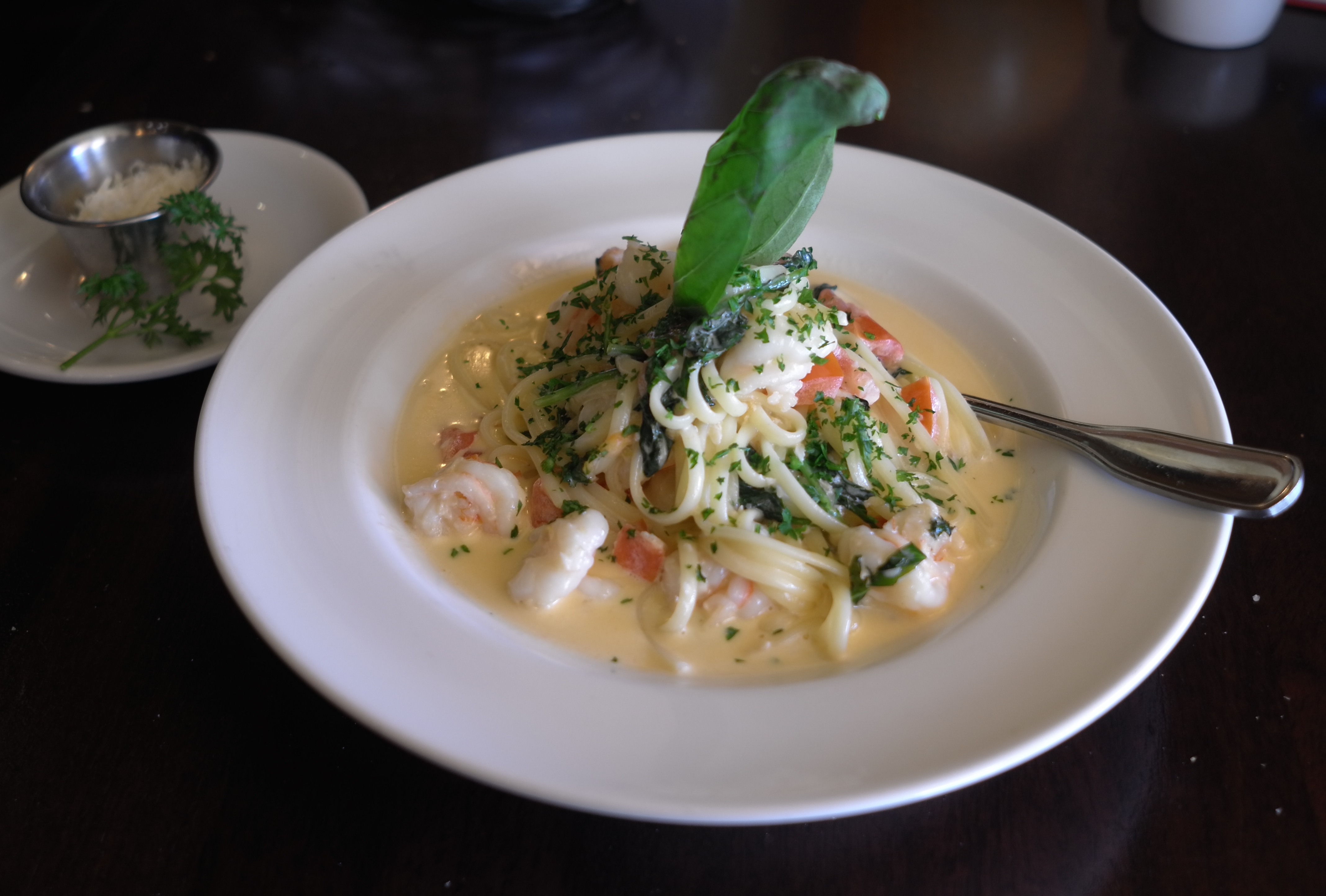 I've ordered this entree many times and I've never been disappointed.  In fact I consider it as near to perfection as is possible.  The Sundance Mine Company, a.k.a. Sundance the Stake House, Jumbo Prawn Linguine consists of sautéed wild gulf prawns, campari tomatoes, garlic, chili flakes, basil and baby spinach with a white wine cream sauce.  The execution and presentation is flawless.   
Perhaps the reason I'm so crazy about it is that it's quite similar to my signature dish from high school.  My offering incorporated the tomatoes into the sauce, included shallots, chopped parsley and was served over rice as opposed to fresh pasta, but was otherwise very reminiscent 
The Jumbo Prawn Linguine is $26 on Sunset Dinner Menu which is offered seven nights a week (except for holidays) from 5 to 6 pm and includes your choose of Clam Chowder, Sundance House Salad, Tossed Sonoma Salad, Strawberry Arugula Salad or Caesar Salad.  I always order the Caesar Salad, it's spectacular.   If you arrive after six it's available on the regular dinner menu for $26 but the Caesar Salad is separate at $11. 
Sundance is located just across the street from Stanford University and has been a Palo Alto institution since 1974.  The interior is a bit too dark for my liking and packed to the rafters with vintage Stanford sporting memorabilia.  I'm not too crazy about the period athletic supporter with hard cup mounted on the wall.  Such surroundings might be welcoming on cold and stormy winter nights.   But on glorious spring and summer evenings I much prefer the outside sidewalk dinning on nearby California Avenue.