Review:  Squid Ink Pasta & Prawns, Osteria Toscana in Palo Alto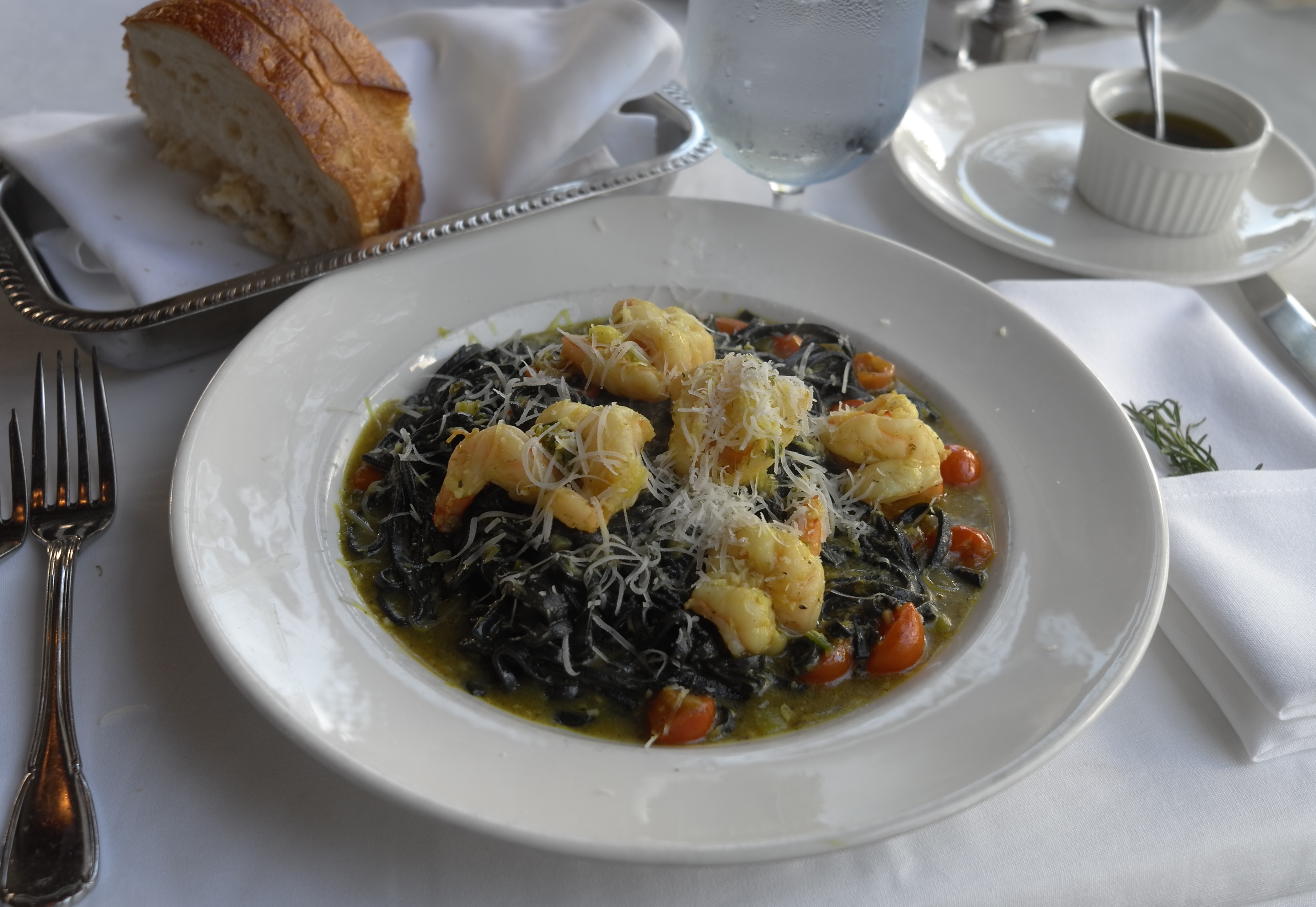 This was the first time I've eaten Squid Ink Pasta and it may be the last.  The flavor was extremely disappointing and difficult to describe.  The best I can do is to liken it to seaweed.  It wasn't appetizing at all.  Perhaps it's just a personal preference.  Perhaps it's just me.  I don't care for the taste of anchovies, licorice or butterscotch.  But anchovies, licorice and butterscotch are used for many other things.  Not so for squid ink.  I've never heard of squid ink pizza, or squid ink salad dressing or squid ink ice cream.  Why not?  The answer is simple.  Squid ink would ruin pizza, salad dressing and ice-cream just as it ruins pasta. 
Osteria Toscana in Palo Alto is one of my all time favorite places to eat.  But for $32.50 I was served four, count em' four prawns on a large bed of jet black pasta.   The prawn were fine and the entree was similar to the wonderful Sundance Jumbo Prawn Linguine.  However it was in no way shape or form improved by the black stuff.  To the contrary, the squid ink destroyed it. 
This leads me to wonder, are we the customers victims of a scam?  Is it possible that, when the day is finished and accounts taken, the waiters and chefs chuckle over how many restaurant patrons were silly enough to pay a premium price for an added ingredient that should've been tossed out with the garbage?
If we wanted our pasta black the same effect could've been achieved with food coloring.  I should've known something was amiss while watching youtube tutorials and seeing that the chefs all wore surgical gloves when working with squid ink.  If the black stains don't come off your hands just imagine what they'll do to your insides. 
Squid ink pasta can be purchased online on amazon.com and it might be a fun novelty item for one of those Halloween themed kiddie parties.  The ones where "scary foods" such as "mummy fingers" and "eyeballs" are served.  You could say it was a steaming plate of cooked earthworms and no one would know the difference.  But the next time I see squid ink on a menu, any menu, I'll take a pass.    Thank you for reading.