The Sore Loser & Second Amendment "Jokes"
Immaculately groomed and as handsome as any movie star Dan White was a high school valedictorian, a US Army veteran, a former firefighter, a former police officer, a responsible gun owner and a loving husband and father.  In 1977 he was elected to the San Francisco Board of Supervisors.  White described himself as a "defender of the home, the family and religious life against homosexuals, pot smokers and cynics."
However his tenure on the Board was brief.  Unhappy with city politics, and his low salary, he resigned on November 10, 1978. When White learned that San Francisco Mayor George Moscone was going to fill his vacancy with a liberal he decided to rescind his resignation.  White visited Moscone in the Mayor's office in City Hall and requested reappointment to his old seat.  Moscone declined so White pulled out his Smith & Wesson Model 36 and emptied it into the Mayor.  Not satisfied with one murder White reloaded and went looking for Supervisor Harvey Milk and promptly killed Milk as well most likely because he was gay.
Benefiting from the so called Twinkie Defense White was convicted not of murder as you might expect, but only of manslaughter.   He was release after serving just five years behind bars.  Dan White died, by his own hand, a free man.  As was his due as a veteran he was given a military funeral with honors and buried beside heroes. 
Donald Trump's "joke" about second amendment people doing something about Hillary Clinton scares me silly and I'll explain why.   Dan White was a church goer, a pillar of the community, and a responsible gun owner.  He was all of these things right up to the moment when he wasn't, right up to the moment when he pulled out his gun and shot the Mayor of San Francisco in the Mayor's own office. 
It isn't always the drug dependent, gun toting street thug, or the islamic terrorist who dreams receiving twenty virgins in the hereafter, that pose a threat to our safety.  Life isn't that simple.  Sometimes it's the clean cut, all American boy who who simply can't stand to lose, the gotta win, who puts us at risk.   Jokes like the one Trump made about second amendment people only fan the flames.  In any election there are winners and there are losers.  Some people kill simply because they lost an election or a political appointment.   
I support the right to gun ownership.  In fact I'm a gun owner myself albeit an accidental one.  I've inherited a number of guns from male relatives.  But I see no reason to carry a concealed firearm.  For that matter, I see no reason to carry an exposed weapon.  And I don't for a moment believe that Hillary Clinton intends to overturn the second amendment. 
The photo of Dan White's marker was taken at the Golden Gate National Cemetery.  At the risk of being gratuitous my father is buried beside the flag poll you see in the background.  He survived 51 bombing missions over Europe during World War II.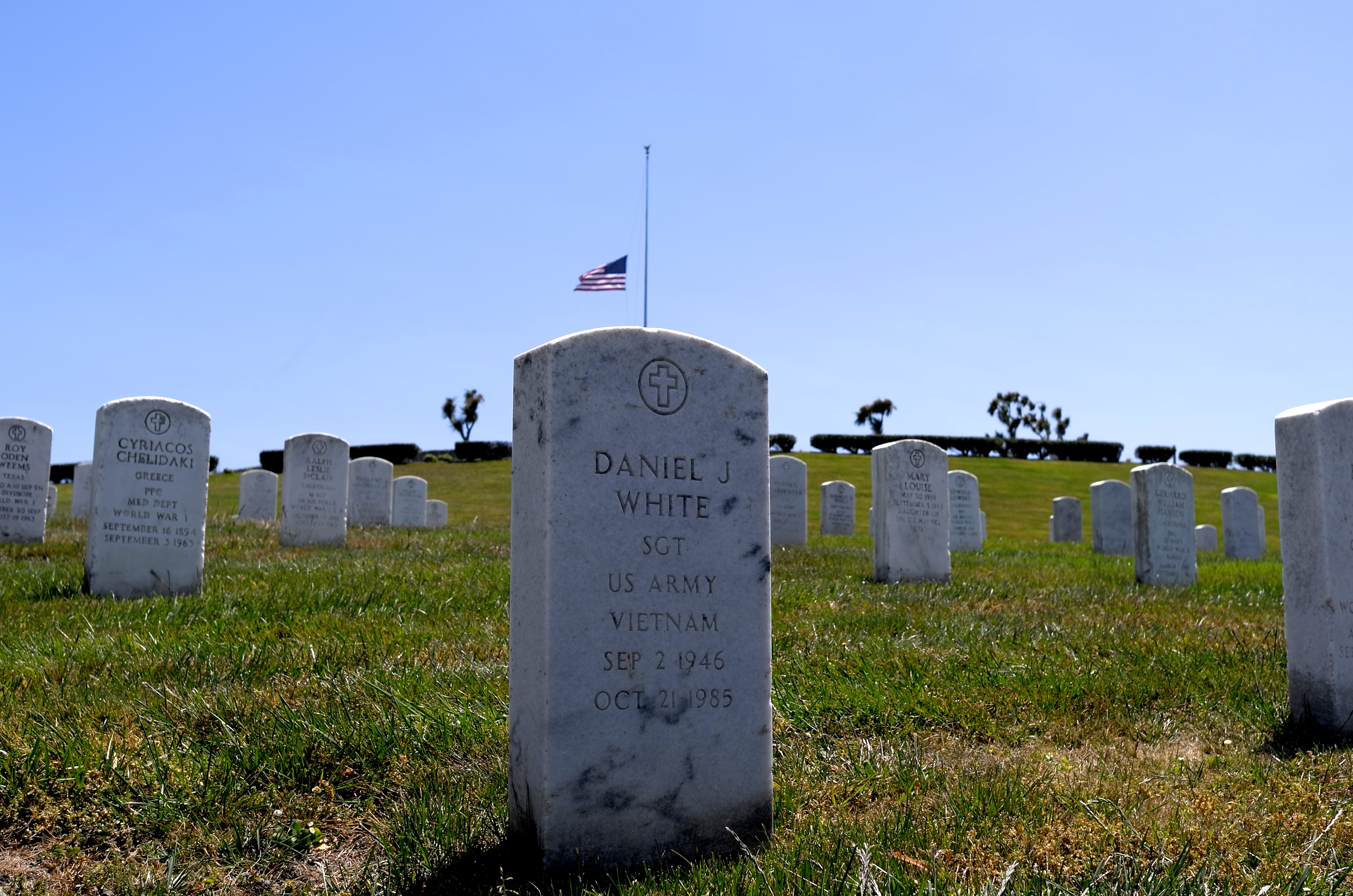 Show EXIF
Aperture: ƒ/5.6
Camera: LEICA X2
Taken: May 16, 2016
Flash fired: no
Focal length: 24mm
ISO: 100
Shutter speed: 1/500s
The Sore Loser & Second Amendment "Jokes"