The Great American Eclipse: Part 7
The Great American Eclipse: Part 7 of 8
It's been said that if we experienced a total eclipse of the sun every month the novelty would soon fade and we'd come to regard such cosmic spectacles as nothing more than a nuisance.  That may sound reasonable, but after what I experienced on August 21 I can't believe it.  A gorgeous sunset, or sunrise, is common place but I'd never consider them mundane. 
But an eclipse is different from a sunset or sunrise and it all happens so fast.  To start with there is an eerie and unnatural sort of a dusk.  The air becomes noticeably cool and in spite of the fact that the sky remains blue it seems that the sun has lost it intensity.  Through my Questar I could see the orange crescent of the sun growing ever thinner as totality approached.  Very clearly, along the horns of the increasingly crescent sun, I could discern Baily's Beads named in honor of the English astronomer Francis Baily.  The moon is not a perfect sphere.  It had lowlands and valleys as well as mountain ranges and towering crater rims.  This rugged topography allows allows rays of sunlight to shine through in some places but not in others.  The image I viewed through my telescope was dynamic and ever changing.  The crescent sun waned ever smaller until it disappeared entirely and I looked up to behold the cemetery in darkness.
But not just the cemetery, the surrounding  farmland and the distant mountain had all been suddenly plunged into night.  I, and the world around me, was truly in the shadow of the moon.  I heard people gasping in awe.  I heard dogs franticly barking in distress and excitement their yelps seeming to come from all directions of the compass.  I saw the world Venus, bright as a lantern and high in the sky.   This was a position in which I'd never seen the planet before; not in a lifetime of stargazing.  And there was the Corona of the sun and in the center of that aura of glowing plasma was the black circle of the moon looking laser cut perfect. 
The sky was a deep purple blue and a reached for my little Leica X2 to snap a quick picture of the corona.  Although I was in a cemetery I wasn't at all frightened.  Perhaps it was due to the fact that I wasn't alone, there were other people nearby.  Perhaps I was simply overwhelmed by the wonder of the moment.  Or perhaps it was because I knew the darkness would not last long.  But I fully understood how humans in ancient times must have been terrified by such an event.  The sun had been switched off!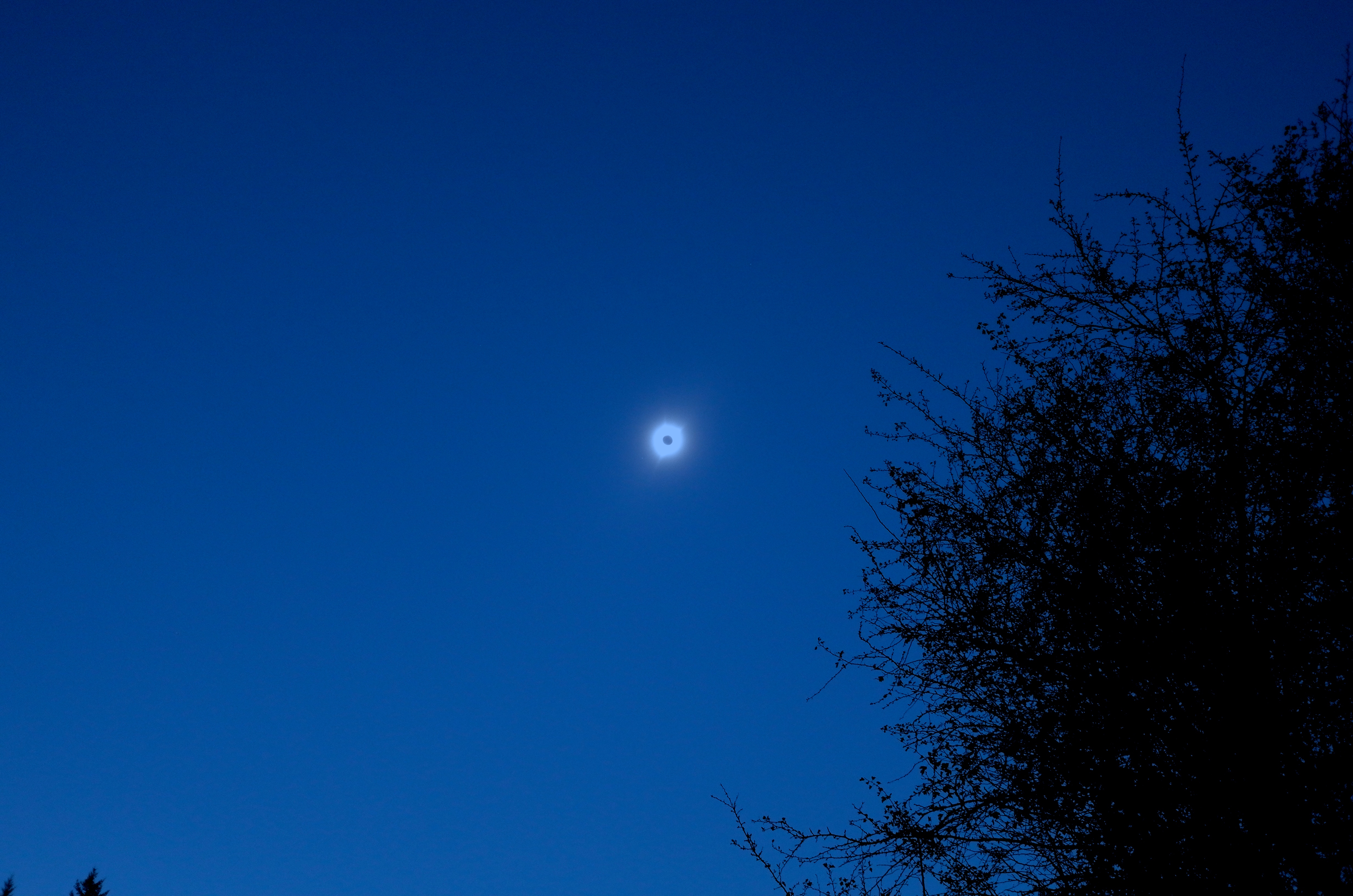 Show EXIF
Aperture: ƒ/2.8
Camera: LEICA X2
Taken: August 21, 2017
Flash fired: no
Focal length: 24mm
ISO: 1600
Shutter speed: 1/30s
The Great American Eclipse: Part 7