The Great American Eclipse: Part 4
Part 4 of 8
With an iPhone as my guide I drive the rental car out of the parking lot south bound for Silverton.   Soon I was outside the city limits of Portland and into the country.  This was my first visit to Oregon and it looked wonderful.  I was to the west of the Cascade Mountain Range in lush rolling farmland and pine forests.  It was all so beautiful.  There were century old farmhouses some of which were picture perfect and others that were in need of minor maintenance but I loved them all.  I saw orchards, mills, old barns and farm equipment that I imagined had changed little over the last seventy years.  I saw roadside taverns, churches and schools.
I saw signs that read Willamette Valley and I realized that this was the same valley were the famous Willamette Meteorite was "discovered" by Ellis Hughes in 1902.  Hughes was not a scientist but he correctly surmised that the meteorite must be quite valuable.  There was only one problem, the darn thing rested on land that belonged to the Oregon Iron Company.   Not a man to be easily dissuaded by minor technicalities Hughes decided that this was a situation that called out for some good old fashioned gumption and a bit if elbow grease.  He would secretly drag the precious extraterrestrial visitor across the property line to his own land, cover his tracks, and claim ownership.  After 90 days of backbreaking labor he has succeeded in moving the 31,130 pound iron meteorite just three quarters of a mile.  At that point his attempted theft was discovered.  The Oregon Supreme Court ruled that the Oregon Iron and Steel Company was the legal owner.  Hughes' efforts were for not.  I use this story as a cautionary tale for my 6th grade astronomy students.  Crime does not pay!  And were is the meteorite now?   For the past 115 years it's been on public display at the American Museum of Natural History in New York City. 
I wished that I had time to stop the car to get out and explore at bit.  Who knows, if I'd poked around perhaps I'd have discover some crazy big hunk of iron that fell from outer space like the Willamette Meteorite.  But I had to be on my way.   The people of Oregon looked good and were friendly.  Well actually I only had occasion to interact with one of them.  A motorcycle cop pulled me over and issued me a well deserved citation for running a stop sign.  But he was really nice about it.   
The temperature was mild and the sky was blue but I noticed something odd.  Although there wasn't a cloud in sight the sun seemed to be less intense as if it was an overcast day.  Also the air was noticeably cooler.  The first phase of the eclipse had begun.   It was time to find an observing sight.  There were plenty of candidates  to chose from.  I saw impromptu star parties in church parking lots, besides barns, and at roadside restraints and fruit stands.  People were setting up lawn chairs and solar telescopes ready to view the sky in comfort. 
I noticed a group sky watchers setting up in an ancient and spooky looking old western pioneer cemetery.  It seemed an odd place to observe an eclipse but then I asked myself this question; when was the last time I ever had any fun or did anything even remotely interesting in a cemetery?   The answer was 'never.'  I'd never had a positive experience in a graveyard.  Well this was my opportunity to do something about that I decided as I pulled the rental car into the Miller Cemetery of Silverton.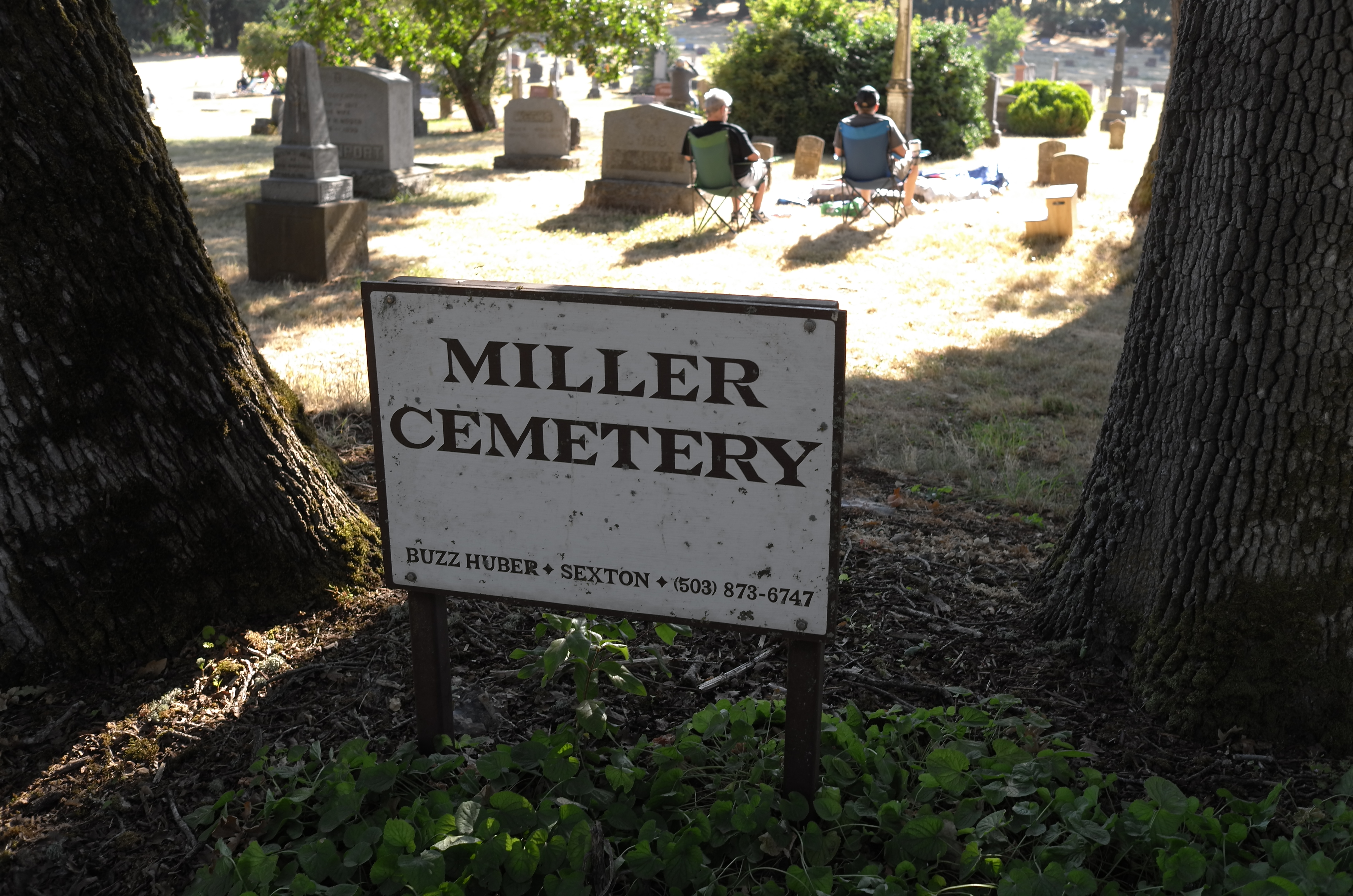 Show EXIF
Aperture: ƒ/4
Camera: LEICA X2
Taken: August 21, 2017
Flash fired: no
Focal length: 24mm
ISO: 100
Shutter speed: 1/60s
The Great American Eclipse: Part 4