Apollo 11 Splashdown 47th Anniversary
If you asked me to name the world's most famous ship I'd answer without hesitation the Titanic.  Who hasn't seen the Leonardo DiCaprio movie?  But the Titanic isn't so much a ship as it is a shipwreck.  If you asked me to name the vessel with the greatest historic significance I'd say the HMS Beagle on which Charles Darwin circled the globe.  No other voyage has done more to reshape human understanding of ourselves and of life on Earth.  Of course Vice Presidential candidate Mike Pence might disagree.  Unfortunately the Beagle was scrapped long ago.  If you asked me to name the greatest ship afloat, and the one most worth visiting, I'd answer the USS Hornet.  The Hornet was the recovery ship for both Apollo 11 and Apollo 12, the first and the second successful lunar landings.   
I took this photo on the Hornet's hanger deck.  Do you see the large silver object that appears to be an Airstream Trailer?  Well it is an Airstream Trailer, or at least it was before it was converted into a NASA Mobile Quarantine Facility.  This unit was used not for Apollo 11 but for Apollo 14.  However it occupies the same place of honor as was used by the Apollo 11 unit.  Now look closely to the right of the photo.  See the yellow footprints pained on the hanger deck floor?  Those are Neil Armstrong's first steps on Earth after returning from the moon.  Isn't that cool! 
The USS Hornet is open to the public.  If you're visiting the Silicon Valley and have any interest at all in spaceflight, or navel history, or World War II, the Hornet is well worth driving to the other side of the bay to see.  There's so much to do and explore that you can well spend the entire day.  For you history buffs be sure to have a look at the next pier over.  That's where Jimmy Doolittle and his Doolittle Raiders left to bomb Japan.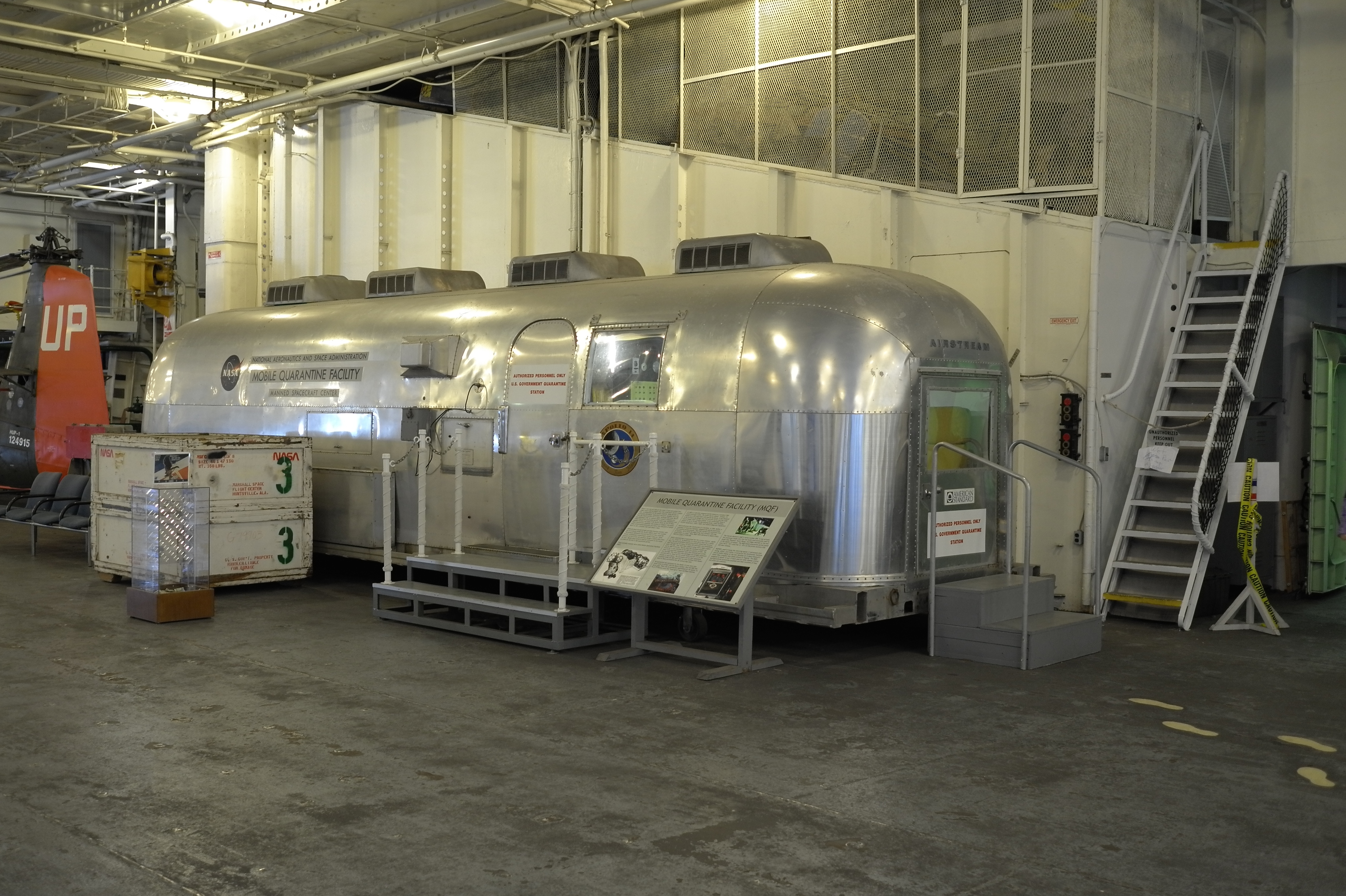 Show EXIF
Aperture: ƒ/2.8
Camera: LEICA X2
Taken: March 16, 2016
Flash fired: no
Focal length: 24mm
ISO: 400
Shutter speed: 1/30s
Apollo 11 Splashdown 47th Anniversary